Ekatontapiliani Church: 1km
Sunset View Hotel is located at a prime spot of Parikia, the capital of Paros. Away from the noisy crowds, yet close to points of interest, our hotel offers a relaxing stay to guests from around the world. Built on a small hill, our structure overlooks proudly the surrounding area of Parikia Paros.
You will need just a few minutes to reach Livadia, the main beach of the village. If you have your own mean of transport, you will need just a few seconds to get there. The old and historic part of Parikia Paros is also within walking distance from Sunset View Hotel. This is the place where you will walk along picturesque alleys.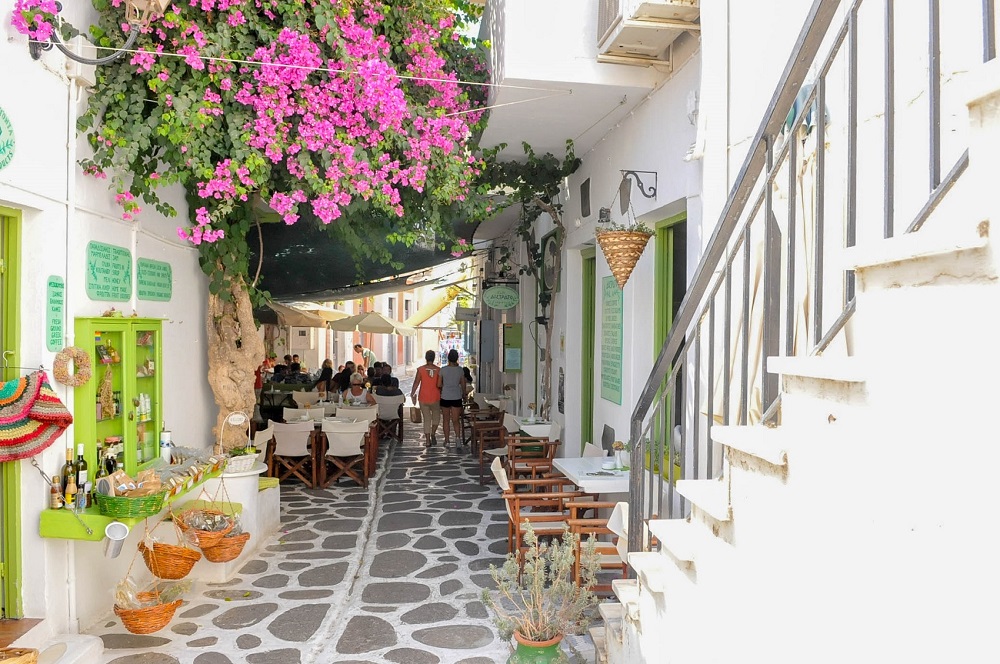 Explore a place, which is underestimated by photos. Parikia Paros is a picturesque place, but the "old town" makes it unique and adds even more character. 
You will find yourself lost in Cycladic beauty among the white alleys. The wall of Frankish Castle will make an impression, as it was built using marble from ancient temples. Ηidden family chapels revealing before you definitely, deserve a photo. Luxurious restaurants, traditional taverns, boutique shops are part of the experience that "old town" offers to visitors of Parikia Paros.
Livadia, just few minutes away from our hotel, is considered as the main beach of Parikia Paros. That is because of its location. It consists of sand, small pebbles and of course crystal water. 
You can participate in many activities here. There is a water sport center where you can rent equipment and enjoy little bit more extreme day on the beach. If you are visiting us with a group of friends, you can use the beach volley court. From time to time, usually during the high season, a tournament is organized. Livadia is an organized beach of Parikia Paros. There are umbrellas and sunbeds, which will make your day even more comfortable. Restaurants, taverns and cafes are not missing from Livadia beach. The variety and quality of dishes will satisfy every visitor.
You should make an effort not to miss it. Panagia Ekatontapiliani is a Byzantine church, founded by Saint Helen, the mother of the Constantine the Great, a Roman Emperor. 
Its first structure was built in 326 A.D. This makes Ekatontapiliani one of the oldest and important monuments of Christianity in Greece. It is quite interesting to know the origine of its name. Ekato = hundred and the modern translation is the church with hundred doors. This is almost true, as it has 99 doors and windows. According to the legend, the last one will be discovered after opening a hidden door in Ηagia Sophia in Constantinople (Istanbul). This is a true ornament of Parikia Paros.
Klimata - Parikia, P.C. 84100 Paros
TEL: +30 22840 24285, +30 22840 23277